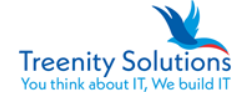 Test Engineer at Treenity Solutions
Brussels, Brussels 1070
Test Engineer
Treenity Solutions
is an IT Services provider with a proven expertise in Software development in IT leading technologies (Microsoft, Java, Oracle, BI) and mobile/web domains. We provide services and provision resources in Belgium, France and Luxembourg since 2010.
Our main activities
Software development, Requirements Analysis and Project Management
Architecture and Design (Service Oriented Architecture)
Business Intelligence Solutions
Microsoft SharePoint, PHP Based and other leading content/document management systems
Expertise in JEE, Microsoft .NET, SharePoint, PHP Oracle, BI, SAP, Infrastructure, Security
We deliver projects in Time & Materials and Fixed Price mode
Our customers
We deliver services to various clients from the private sector (leading banking, insurance and manufacturing) companies and public (European Commission, Parliament, Council and National institution in France and Belgium) institutions.
Context
We are seeking for a Tester profile to be assigned to long time missions involving maintenance and new projects.
Your profile
Having a ISTQB certification is a plus
Review and analyze system specifications
Execute test cases (manual or automated) and analyze results
Evaluate product code according to specifications
Create logs to document testing phases and defects
Report bugs and errors to development teams
Help troubleshoot issues
Conduct post-release/ post-implementation testing
Work with cross-functional teams to ensure quality throughout the software development lifecycle
Our promise
A permanent contract as a consultant in a fast growing SME. Treenity Solutions uses a flat matrix-type organizational structure that focuses on proximity of Senior Management with technical staff.
Attractive salary packages including a group insurance (life insurance and death cover), a comprehensive hospitalisation insurance, meal and gift vouchers and other allowance and benefits depending on your job, we may also supply a company car and/or a laptop.
Interested
Send your CV to the attention of Ms. Elena Bulea at: job@treenitysolutions.com or call us 02 560 21 46
Employee Events
Professional Development
Medical, Dental and Vision
Vacation/paid time off
Maternity/Paternity Paid Leave
Parking
Vehicle Allowance
Transportation Allowance
Work From Home
Paid Holidays
Mobile Phone Discount