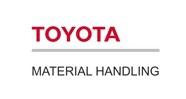 Sales Financing Manager Europe at Toyota Material Handling Europe
Willebroek, Antwerp
Company profile
Toyota Material Handling Europe (TMHE) began operations in 2006 to manage the Toyotaand BT materials handling business in Europe. With more than 100 years combined Toyota and BT experience, TMHE offers a comprehensive portfolio of Toyota counterbalanced forklift trucks and BT warehouse equipment supported by services and added value solutions, including service contracts, short term rental, used trucks and the Toyota I_Site information service.

Active in more than 30 countries across Europe, TMHE has European Office functions based in Ancenis (France), Bologna (Italy), Willebroek (Belgium) and Mjölby/Linköping (Sweden), and production centres in Ancenis, Bologna and Mjölby. With 400 sales and service centres, nearly 5,000 service engineers, around 8,000 employees, and a network of independent distributors and dealers, TMHE is the European regional organization of Toyota Material Handling Group (TMHG), which is part of Toyota Industries Corporation (TICO) – the world leader in materials handling equipment. For more information on TMHE, visit www.toyota-forklifts.eu
Job description
As Sales Financing Manager, you are responsible for the area of Sales Financing (mainly lease and loan products).
You analyse and follow the Sales Financing performance.
By developing and continuously improving our Sales Financing products, you support the market performance.
You coordinate the marketing activities related to Sales Financing as well.
As a source of funds, you collaborate with the internal bank.
Assigned by your department director, you manage the additional activities and projects.
As Sales Financing Manager, you report to the Director Customer Solutions, Services.
In short, you develop and implement our Sales Financing market strategy.
Profile description
As Sales Financing Manager at TMHE, you have strong rental & lease understanding and experience (sales management, marketing, product development).
Strong analytical capabilities and good MS office skills are necessary.
You substantiate your strong project management competencies with your great time management and planning skills.
With your motivation, your enthusiastic approach towards problem solving and excellent team player qualities, we look forward enclosing you in our team.
As Sales Financing Manager, you are driven and structured.
You have very good communication skills and are fluent in English, both spoken and written.
Offer
TMHE offers you a competitive remuneration package.
We have a dynamic and challenging multicultural work environment in which competence and quality play an important role.
We offer a real opportunity to invest in your future and to enhance your personal growth through on the job development and training.
Interested?
Keywords
Sales Financing Manager Europe at Toyota Material Handling Europe, Financing, Finance, Lease, Loan, Sales Management, Marketing, Product Development, Project Management, Time Management, Planning, Market Performance, Performance, Market Strategy