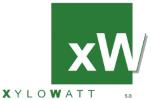 Electrical - automation Engineer at XYLOWATT
Louvain La Neuve, Walloon-Brabant 1348
THE COMPANY





Xylowatt (www.xylowatt.com) has developed the NOTAR® cutting-edge technology, which efficiently turns biomass or waste into a clean and cold gas fit for powering a cogeneration engine or for replacing fossil fuels in an industrial furnace. Xylowatt gasification reactors integrate into multiple ecosystems, typically managed by major EPC contractors and integrators, to solve the most difficult waste to energy challenges faced by the end users of those ecosystems.





We are currently searching for an ELECTRICAL - AUTOMATION ENGINEER to join our office located in Louvain-La-Neuve.



THE JOB

Within the engineering team, you manage automation & electrical aspects of the projects.

Key responsibilities

Overall process owner of automation aspects of power plants
Overall process owner for electrical aspects of power plants
Participate and drive development of automation strategy in line with industrial standards
Manage sub-contract resources and ensure compliance with all relevant quality standards
Maintain installed base

Maintain STEP7 programs and support operation for continuous improvement
Manage software upgrades
Maintain as built documentation covering automation and electricity
Implement modifications, addition and support development

Design of automation of future plants

Design 'PLC' & communication structure of power plants
Design HMI & Remote control of gasification plants
Write STEP7 program based on process requirements
Design and maintain centralised data base of operational values measured on plants under remote operation (Data logging)
Drive and implement rigorous quality standards for all aspects of the automation delivery from initial concept to final commissioning and handover.
THE PROFILE


Industrial engineer automation expert or graduated in automation with a successful track record in a similar role
5 years' experience in the field of automation and instrumentation of complex industrial installations.
Technical studies or comparable professional experience as well as very good programming knowledge in Siemens S7 / TIA
Knowledge of profibus networks, design and selection of related hardware.
Knowledge of WinCC and RS View
Knowledge of Autocad for electrical drawings
SIL knowledge
Good English skill
Flexible to travel
THE OFFER

Xylowatt offers a permanent contract in a friendly work environment with a team that is dedicated and passionate about creativity and innovation.