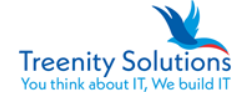 Dirécteur Technique at Treenity Consulting
Brussels, Brussels 1070
Treenity Solutions est une société de services informatique spécialisée dans l'ingénierie logicielle (analyse, développement, gestion de projet et architecture), le conseil technologique et l'intégration de solutions aux projets techniques de ses clients.
Nos clients sont de grandes entreprises nationales et internationales dans tous les secteurs d'activité (Secteur public, Institutions et entreprises internationales, Financières, Énergétiques, Industrielles, des Transports, Télécom et Médias…).
Notre positionnement: devenir un acteur majeur de la transformation et de la performance des Directions Informatiques en entreprises.
Face à notre forte croissance, nous recherchons aujourd'hui un Dirécteur Technique expérimenté(e).
Votre profil
Diplôme: master (ou expérience équivalente) ;
Expérience: 5 ans dans la consultance
Bonnes compétences techniques en Java/Microsoft/Front-End…
Familiarisé avec tous les concepts liés aux phases du cycle de vie du développement:
(business analysis and modelling, software sizing, develop solution requirements, manage functional and non-functional requirements, data modelling, use case modeling, user experience design)
Expérimenté dans la gestion des offres, évaluation RFC, la rédaction de propositions techniques, gestion de prix fixes est un atout (suivi des contrats et suivi des accords de niveau de service).
Résistant(e) au stress, flexible, honnête, persistant(e), proactive(e);
Parlant couramment le Français et l'Anglais et vous avez une connaissance moyenne du néerlandais.
Nous vous offrons
La possibilité de travailler pour une entreprise et un groupe internationale en pleine croissance axés sur la qualité des services offerts à ses clients;
Une excellente ambiance de travail familiale et amicale;
Les responsabilités variées et challengeantes;
De nombreuses possibilités de formation;
Un package salarial attractif et compétitif : salaire fixe, voiture de société, assurances groupe et hospitalisation;
Une possibilité de participer à la croissance de notre entreprise
Localisation
Le poste est basé à notre siège (à Bruxelles).
Rue Bara 175, 1070
Bâtiment - The EGG
Intéressé(e) ?
Veuillez envoyer votre candidature à l'attention de Madame Elena BULEA, Managing Director chez Treenity Solutions à l'adresse mail: ebulea@treenitysolutions.com ou par téléphone au : 0484 64 06 49
Parking
Transportation Allowance
Vehicle Allowance
Employee Events
Medical, Dental and Vision
Work From Home
Vacation/paid time off
Paid Holidays
Professional Development
Mobile Phone Discount
Maternity/Paternity Paid Leave
€40,000.00 - €90,000.00 /year