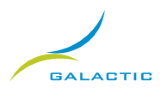 Area Sales Managers - Technical Sales Managers at GALACTIC
Company details
Are you in search of a new career move where you can make the difference in a human-sized biotechnology company that prioritizes clean food ingredients? If so, now is the time to choose Galactic.
Galactic believes in the future of sustainable and healthy ingredients to replace chemicals in food through green chemistry.
Galactic uses simple materials and transforms them through fermentation into natural and clean label ingredients to preserve the quality and goodness of food products throughout their shelf-life, such as processed meat, ready meals, and bakery products.
Our headquarters are based in Belgium, with production facilities in the United States, China, and Europe. Our sales offices are in Brussels, China, United States, Japan, and Brazil. We employ worldwide more than 250 people and are active in more than 80 countries.
To reinforce our sales team based in Brussels, we are looking for:
Area Sales Managers
Technical Sales Managers
Function
Be a solid team player, taking charge of a geographical area in EU according to your language proficiency
Develop our client portfolio and the antimicrobial business in the prioritized sections of the food industry
Manage and develop end users and distributors by establishing close relationships
Perform active research and analyses on markets and industries to find potential commercial opportunities
Maximize profitability and sales volume
Develop and implement strategies to build a sales prospect pipeline and generate business opportunities
Participate in and apply pricing policies
Collaborate with customer service to ensure proper order handling
Understand the dynamics of your business and provide regular accurate sales forecasts
Maintain a culture of excellence and communicate it relentlessly to your colleagues
Profile
A minimum of two years commercial experience
A proven track record in sales or management of distributors, preferably in food ingredients or chemicals
Experience and knowledge of the food ingredients industry preferred
Advanced Degree in Food Science, Chemistry or Biology preferred
Commitment to develop and entertain a network of relationships in the food industry
Passion for bringing solutions to food applications
A resilient customer-oriented problem solver is a must.
Native or totally fluent in German, French or Dutch
Good English is a must
Knowledge and interest of other European languages is certainly an advantage to flourish in our multicultural team.
Offer
A challenging position giving you the opportunity to make a difference in the development of an innovative company
An international environment, encouraging autonomy, flexibility and team spirit
A salary package with company car and other benefits.