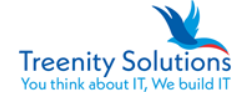 Analyst developer Microsoft.NET at Treenity Solutions
Anderlecht, Brussels
.NET Developer
TreenitySolutions; IT Services providers with a proven expertise in Software development in IT leading technologies (Microsoft, Java and Oracle) and mobile/web domains.
Since 2010, we provide services and provision resources in Belgium, France and Luxembourg.
Our main activities
Software development, Requirements Analysis and Project Management
Architecture and Design (Service Oriented Architecture)
Business Intelligence Solutions and Resources
SharePoint and other leading CMS integration
Expertise in JEE, Microsoft .NET, SharePoint, Oracle, BI, SAP, Infrastructure, Security.
We deliver projects in Times & Materials and Fixed Price mode.

Our customers
We deliver services to various clients from the private sector (leading banking, insurance and manufacturing) companies and public (European Commission, Parliament, Council and National institution in France and Belgium)
Context
At TREENITY SOLUTIONS, we are looking for a .NET developer responsible for building .NET applications using both front-end and back-end technologies. 
Your primary responsibility will be to design and develop these layers of our applications, and to coordinate with the rest of the team working on different layers of the infrastructure. A commitment to collaborative problem solving, sophisticated design, and quality product is essential.
Your profile
You are an experienced

 

Microsoft .NET

 

analyst/develope

r (min.5

 

years

 

of professional experience).

Having a previous experience as a consultant is a plus.

Strong understanding of object-oriented programming

Familiar with various design and architectural patterns

Knowledge of concurrency patterns

Familiarity with Microsoft SQL Server

Knack for writing clean, readable, and easily maintainable code

Understanding of fundamental design principles for building a scalable application

Experience creating database schemas that represent and support business processes

Basic understanding of Common Language Runtime (CLR), its limitations, weaknesses, and workarounds

Experience implementing automated testing platforms and unit tests

Proficient understanding of code versioning tools

 

{such as

Git

, SVN, and Mercurial}

You are a proactive individual with

 

very good communication skills

 

and

 

analytical

 

mind-set

You have proven expertise on

 

C#, ASP.NET,

 

Web development basics {HTML/XTHML, JavaScript, CSS, HTTP

,XML

}

 

and

 

SQL Server and T-SQL query language.

Microsoft BI

 

stack

 

is not necessary but

 

is

 

still

 

an asset

You are familiar with continuous integration concepts

 

and test automation.

 

Having a previous experience in an

 

Agile

environment

is an asset.
Our promise
A permanent contract as a consultant in a fast growing SME. Treenity Solutions uses a flat matrix-type organizational structure that focuses on proximity of Senior Management with technical staff.
Attractive salary packages including a group insurance (life insurance and death cover), a comprehensive hospitalisation insurance, meal and gift vouchers and other allowance and benefits depending on your job, we may also supply a company car and/or a laptop.
Interested
Please send your CV to the attention of Ms. Aleksandra Tyszka, IT Recruiter  at: job@treenitysolutions.com or call us +3225602146
Professional Development
Medical, Dental and Vision
Vacation/paid time off
Vehicle Allowance
Mobile Phone Discount
Transportation Allowance
Paid Holidays
Parking
Maternity/Paternity Paid Leave
Work From Home
Employee Events
€28,000.00 - €45,000.00 /year